Shares of Intact Financial Co. (TSE:IFC) have received an average rating of "Hold" from the ten brokerages that are covering the stock, Marketbeat reports. One research analyst has rated the stock with a sell recommendation, five have given a hold recommendation and three have issued a buy recommendation on the company. The average 12-month target price among analysts that have issued a report on the stock in the last year is C$109.20.
A number of brokerages recently commented on IFC. TD Securities upgraded shares of Intact Financial from a "hold" rating to a "buy" rating and raised their price objective for the stock from C$115.00 to C$120.00 in a report on Thursday, November 16th. Scotiabank dropped their price objective on shares of Intact Financial from C$110.00 to C$107.00 and set a "sector perform" rating on the stock in a report on Thursday, November 9th. Royal Bank of Canada raised their price objective on shares of Intact Financial from C$109.00 to C$110.00 and gave the stock a "sector perform" rating in a report on Wednesday, November 8th. National Bank Financial raised their target price on shares of Intact Financial from C$105.00 to C$112.00 and gave the company a "sector perform" rating in a research report on Monday, November 6th. Finally, CIBC downgraded shares of Intact Financial from an "outperform" rating to a "neutral" rating and raised their target price for the company from C$106.00 to C$113.00 in a research report on Friday, October 27th.
Shares of Intact Financial (TSE:IFC) traded down C$0.55 during trading hours on Tuesday, hitting C$103.68. 173,304 shares of the company were exchanged, compared to its average volume of 151,577. Intact Financial has a fifty-two week low of C$91.40 and a fifty-two week high of C$109.33. The firm has a market capitalization of $14,430.00, a price-to-earnings ratio of 19.13 and a beta of 0.31.
The firm also recently announced a quarterly dividend, which was paid on Friday, December 29th. Investors of record on Friday, December 15th were given a $0.64 dividend. This represents a $2.56 dividend on an annualized basis and a yield of 2.47%. The ex-dividend date of this dividend was Thursday, December 14th. Intact Financial's dividend payout ratio (DPR) is currently 46.13%.
TRADEMARK VIOLATION WARNING: This piece was first reported by Markets Daily and is owned by of Markets Daily. If you are reading this piece on another site, it was illegally copied and reposted in violation of international copyright & trademark legislation. The correct version of this piece can be viewed at https://www.themarketsdaily.com/2018/01/09/intact-financial-co-ifc-receives-consensus-recommendation-of-hold-from-analysts.html.
Intact Financial Company Profile
Intact Financial Corporation is a holding company, which provides property and casualty (P&C) insurance. The Company operates through P&C insurance operations segment. It offers a range of car, home and business insurance products, including personal auto, personal property, commercial P&C and commercial auto.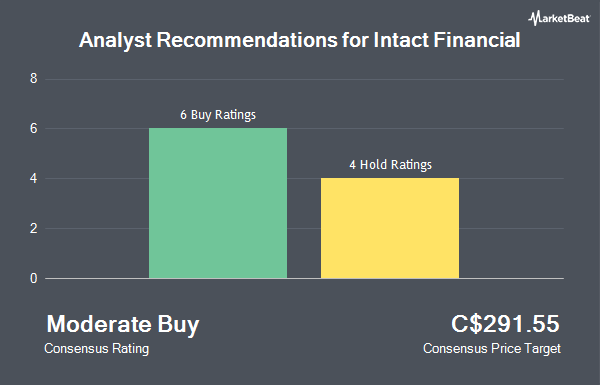 Receive News & Ratings for Intact Financial Daily - Enter your email address below to receive a concise daily summary of the latest news and analysts' ratings for Intact Financial and related companies with MarketBeat.com's FREE daily email newsletter.