Shares of AA PLC (LON:AA) have been assigned an average rating of "Hold" from the seven research firms that are currently covering the company, MarketBeat.com reports. Two research analysts have rated the stock with a sell recommendation, one has assigned a hold recommendation and four have issued a buy recommendation on the company. The average 1 year price target among brokers that have updated their coverage on the stock in the last year is GBX 240.71 ($3.17).
Several research analysts recently commented on AA shares. Barclays PLC began coverage on AA PLC in a research note on Wednesday, July 19th. They issued an "overweight" rating and a GBX 280 ($3.68) price objective for the company. Liberum Capital cut their target price on AA PLC from GBX 340 ($4.47) to GBX 300 ($3.95) and set a "buy" rating for the company in a research note on Wednesday, August 2nd. Citigroup Inc. reaffirmed a "buy" rating and issued a GBX 350 ($4.60) target price on shares of AA PLC in a research note on Wednesday, August 2nd. Credit Suisse Group downgraded AA PLC to an "underperform" rating and cut their target price for the stock from GBX 235 ($3.09) to GBX 175 ($2.30) in a research note on Tuesday, August 8th. Finally, Jefferies Group LLC cut their target price on AA PLC from GBX 150 ($1.97) to GBX 125 ($1.64) and set an "underperform" rating for the company in a research note on Wednesday, September 27th.
In related news, insider Martin C. Clarke bought 100,000 shares of the business's stock in a transaction on Thursday, September 28th. The stock was acquired at an average cost of GBX 166 ($2.18) per share, with a total value of £166,000 ($218,334.87). Insiders acquired a total of 100,280 shares of company stock valued at $16,645,078 over the last ninety days.
WARNING: "Analysts Set AA PLC (AA) Target Price at $240.71" was first reported by Markets Daily and is the property of of Markets Daily. If you are accessing this news story on another publication, it was illegally copied and republished in violation of U.S. and international trademark & copyright laws. The original version of this news story can be read at https://www.themarketsdaily.com/2017/11/15/analysts-set-aa-plc-aa-target-price-at-240-71.html.
AA PLC (
LON:AA
) traded down GBX 2.90 ($0.04) during midday trading on Friday, reaching GBX 155.80 ($2.05). The company had a trading volume of 3,297,080 shares, compared to its average volume of 3,830,000. AA PLC has a 1 year low of GBX 147.50 ($1.94) and a 1 year high of GBX 284.40 ($3.74).
The business also recently announced a dividend, which was paid on Friday, November 10th. Shareholders of record on Thursday, October 5th were paid a GBX 3.60 ($0.05) dividend. This represents a dividend yield of 2.12%. The ex-dividend date of this dividend was Thursday, October 5th.
AA PLC Company Profile
AA plc (AA) offers roadside assistance service. The Company's segments include Roadside Assistance, Insurance Services, Driving Services, Ireland, Insurance Underwriting and Head Office costs. The Roadside Assistance segment sends patrols to members stranded at the side of the road and repairs their vehicles.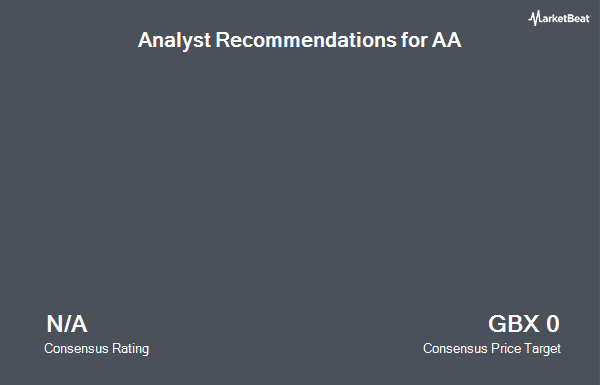 Receive News & Ratings for AA PLC Daily - Enter your email address below to receive a concise daily summary of the latest news and analysts' ratings for AA PLC and related companies with MarketBeat.com's FREE daily email newsletter.