Conifer Holdings, Inc. (NASDAQ:CNFR) – Research analysts at Boenning Scattergood dropped their FY2017 earnings per share (EPS) estimates for shares of Conifer Holdings in a research note issued to investors on Thursday. Boenning Scattergood analyst R. Farnam now expects that the insurance provider will post earnings per share of ($2.91) for the year, down from their prior forecast of ($2.64). Boenning Scattergood has a "Hold" rating on the stock. Boenning Scattergood also issued estimates for Conifer Holdings' Q1 2018 earnings at $0.03 EPS.
Separately, Zacks Investment Research raised Conifer Holdings from a "strong sell" rating to a "hold" rating in a research report on Monday, July 17th.
COPYRIGHT VIOLATION WARNING: "FY2017 Earnings Forecast for Conifer Holdings, Inc. (CNFR) Issued By Boenning Scattergood" was originally posted by Markets Daily and is the sole property of of Markets Daily. If you are accessing this article on another site, it was copied illegally and reposted in violation of U.S. & international copyright laws. The correct version of this article can be accessed at https://www.themarketsdaily.com/2017/11/13/fy2017-earnings-forecast-for-conifer-holdings-inc-cnfr-issued-by-boenning-scattergood.html.
Shares of Conifer Holdings (NASDAQ CNFR) opened at $6.25 on Monday. Conifer Holdings has a twelve month low of $6.00 and a twelve month high of $8.20. The company has a quick ratio of 0.54, a current ratio of 0.54 and a debt-to-equity ratio of 0.55.
A hedge fund recently raised its stake in Conifer Holdings stock. Northpointe Capital LLC grew its position in Conifer Holdings, Inc. (NASDAQ:CNFR) by 22.7% during the 2nd quarter, according to its most recent Form 13F filing with the Securities and Exchange Commission. The fund owned 316,190 shares of the insurance provider's stock after purchasing an additional 58,484 shares during the quarter. Northpointe Capital LLC owned about 4.14% of Conifer Holdings worth $2,182,000 as of its most recent SEC filing. 28.97% of the stock is currently owned by hedge funds and other institutional investors.
In other Conifer Holdings news, President Brian J. Roney purchased 16,000 shares of the stock in a transaction on Thursday, September 28th. The shares were purchased at an average price of $6.25 per share, with a total value of $100,000.00. Following the completion of the transaction, the president now directly owns 301,920 shares in the company, valued at $1,887,000. The acquisition was disclosed in a legal filing with the SEC, which can be accessed through this link. Also, Director Joseph D. Sarafa purchased 24,000 shares of the stock in a transaction on Friday, September 29th. The shares were acquired at an average cost of $6.25 per share, for a total transaction of $150,000.00. Following the transaction, the director now owns 49,000 shares of the company's stock, valued at $306,250. The disclosure for this purchase can be found here. In the last three months, insiders have acquired 260,000 shares of company stock worth $1,625,000. Company insiders own 45.50% of the company's stock.
About Conifer Holdings
Conifer Holdings, Inc is an insurance holding company. Through its insurance company subsidiaries, the Company offers insurance coverage in both specialty commercial and specialty personal product lines. It operates through two segments: commercial lines and personal lines. It is engaged in underwriting and marketing insurance coverage, and administering claims processing for such policies.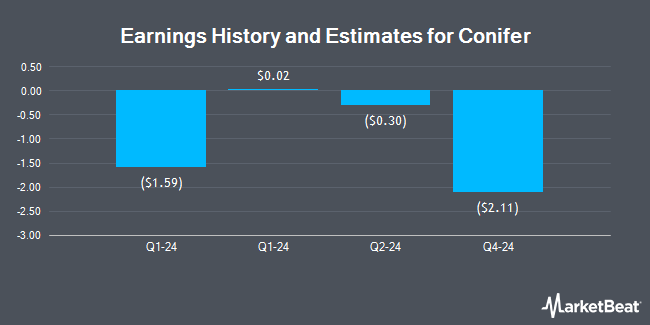 Receive News & Ratings for Conifer Holdings Inc. Daily - Enter your email address below to receive a concise daily summary of the latest news and analysts' ratings for Conifer Holdings Inc. and related companies with MarketBeat.com's FREE daily email newsletter.