Dream Global REIT (TSE:DRG.UN) had its price objective hoisted by National Bank Financial from C$12.00 to C$12.25 in a research report released on Thursday morning. The firm currently has an outperform rating on the stock.
A number of other research firms also recently issued reports on DRG.UN. Scotiabank raised their price target on Dream Global REIT from C$11.00 to C$11.25 and gave the stock a sector perform rating in a research note on Monday, July 31st. Eight Capital upgraded Dream Global REIT from a neutral rating to a buy rating in a research note on Friday, July 21st. One investment analyst has rated the stock with a hold rating and four have issued a buy rating to the company. Dream Global REIT has an average rating of Buy and a consensus price target of C$11.00.
Dream Global REIT (TSE DRG.UN) opened at C$11.40 on Thursday. Dream Global REIT has a 1-year low of C$8.85 and a 1-year high of C$11.74.
WARNING: This article was originally reported by Markets Daily and is owned by of Markets Daily. If you are accessing this article on another publication, it was illegally copied and republished in violation of US & international copyright & trademark law. The original version of this article can be viewed at https://www.themarketsdaily.com/2017/11/12/national-bank-financial-boosts-dream-global-reit-drg-un-price-target-to-c12-25.html.
The company also recently declared a monthly dividend, which will be paid on Wednesday, November 15th. Investors of record on Wednesday, November 15th will be paid a dividend of $0.0667 per share. The ex-dividend date is Monday, October 30th. This represents a $0.80 dividend on an annualized basis and a yield of 7.02%.
Dream Global REIT Company Profile
Dream Global REIT is an open-ended real estate investment trust (REIT). The Trust is an owner and operator of approximately 10 million square feet of office and mixed-use space in Germany and Austria. The Company allows investors to invest in commercial real estate outside of Canada. The Company's portfolio consists of approximately 170 properties, including properties located in Germany and Austria.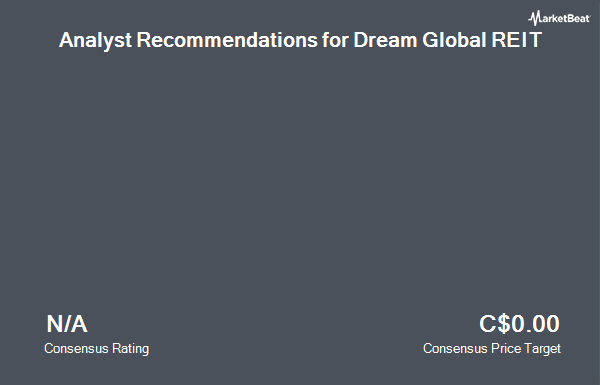 Receive News & Ratings for Dream Global REIT Daily - Enter your email address below to receive a concise daily summary of the latest news and analysts' ratings for Dream Global REIT and related companies with MarketBeat.com's FREE daily email newsletter.