Gamco Investors INC. ET AL lowered its position in Bel Fuse Inc. (NASDAQ:BELFA) by 1.0% in the 3rd quarter, according to the company in its most recent Form 13F filing with the Securities and Exchange Commission (SEC). The institutional investor owned 232,300 shares of the scientific and technical instruments company's stock after selling 2,300 shares during the quarter. Gamco Investors INC. ET AL owned approximately 1.93% of Bel Fuse worth $6,317,000 as of its most recent filing with the Securities and Exchange Commission (SEC).
Separately, Russell Investments Group Ltd. purchased a new stake in shares of Bel Fuse during the second quarter valued at approximately $146,000. 7.88% of the stock is currently owned by institutional investors.
Separately, TheStreet raised Bel Fuse from a "c" rating to a "b-" rating in a research note on Friday, August 4th.
Bel Fuse Inc. (NASDAQ:BELFA) opened at $21.87 on Friday. The company has a quick ratio of 1.59, a current ratio of 2.66 and a debt-to-equity ratio of 0.59. The stock has a market capitalization of $263.14, a price-to-earnings ratio of 17.09 and a beta of 0.89. Bel Fuse Inc. has a twelve month low of $18.80 and a twelve month high of $29.90.
Bel Fuse (NASDAQ:BELFA) last posted its quarterly earnings data on Friday, November 3rd. The scientific and technical instruments company reported $0.42 earnings per share (EPS) for the quarter, missing analysts' consensus estimates of $0.54 by ($0.12). The firm had revenue of $126.39 million during the quarter. Bel Fuse had a return on equity of 9.80% and a net margin of 2.50%.
The company also recently disclosed a quarterly dividend, which was paid on Wednesday, November 1st. Shareholders of record on Friday, October 13th were issued a $0.06 dividend. The ex-dividend date of this dividend was Thursday, October 12th. This represents a $0.24 dividend on an annualized basis and a yield of 1.10%. Bel Fuse's dividend payout ratio (DPR) is 25.00%.
WARNING: "Gamco Investors INC. ET AL Cuts Holdings in Bel Fuse Inc. (BELFA)" was originally published by Markets Daily and is the property of of Markets Daily. If you are reading this story on another domain, it was copied illegally and republished in violation of US & international trademark & copyright laws. The legal version of this story can be read at https://www.themarketsdaily.com/2017/11/12/gamco-investors-inc-et-al-cuts-holdings-in-bel-fuse-inc-belfa.html.
Bel Fuse Company Profile
Bel Fuse Inc (Bel) designs, manufactures and markets a range of products that power, protect and connect electronic circuits. The Company's products include magnetic solutions, power solutions and protection, and connectivity solutions. The Company's operating segments are North America, Asia and Europe.
Want to see what other hedge funds are holding BELFA? Visit HoldingsChannel.com to get the latest 13F filings and insider trades for Bel Fuse Inc. (NASDAQ:BELFA).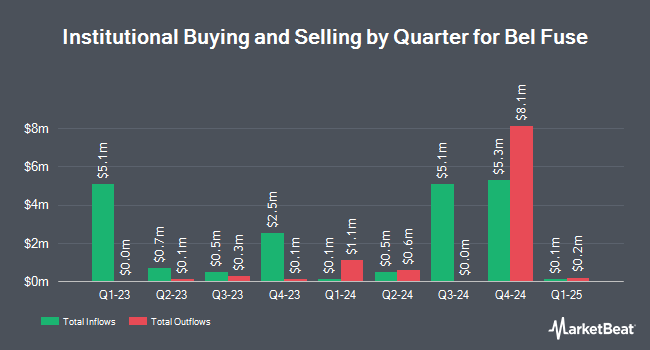 Receive News & Ratings for Bel Fuse Inc. Daily - Enter your email address below to receive a concise daily summary of the latest news and analysts' ratings for Bel Fuse Inc. and related companies with MarketBeat.com's FREE daily email newsletter.