Kelt Exploration Ltd (TSE:KEL) had its target price raised by Scotiabank from C$8.75 to C$9.25 in a report published on Tuesday morning. Scotiabank currently has an outperform rating on the oil and gas exploration company's stock.
Separately, Eight Capital restated a buy rating and set a C$10.00 price objective on shares of Kelt Exploration in a research note on Wednesday, September 27th. One research analyst has rated the stock with a hold rating, six have given a buy rating and one has assigned a strong buy rating to the stock. Kelt Exploration presently has an average rating of Buy and an average price target of C$8.66.
Shares of Kelt Exploration (TSE KEL) opened at 6.92 on Tuesday. The firm's market capitalization is $1.22 billion. Kelt Exploration has a one year low of $5.43 and a one year high of $7.70. The company's 50 day moving average price is $6.54 and its 200 day moving average price is $6.52.
COPYRIGHT VIOLATION NOTICE: This story was originally reported by Markets Daily and is the sole property of of Markets Daily. If you are reading this story on another publication, it was stolen and republished in violation of United States & international trademark & copyright laws. The correct version of this story can be accessed at https://www.themarketsdaily.com/2017/10/13/scotiabank-boosts-kelt-exploration-ltd-kel-price-target-to-c9-25.html.
About Kelt Exploration
Kelt Exploration Ltd. is an oil and gas company based in Calgary, Alberta. The Company is focused on the exploration, development and production of crude oil and natural gas resources, primarily in west central Alberta and northeastern British Columbia. The Company's land holdings are located in Inga/Fireweed/Stoddart, British Columbia; Grande Prairie (including Pouce Coupe, Progress, Spirit River and La Glace), Alberta; Karr, Alberta, and Grande Cache, Alberta.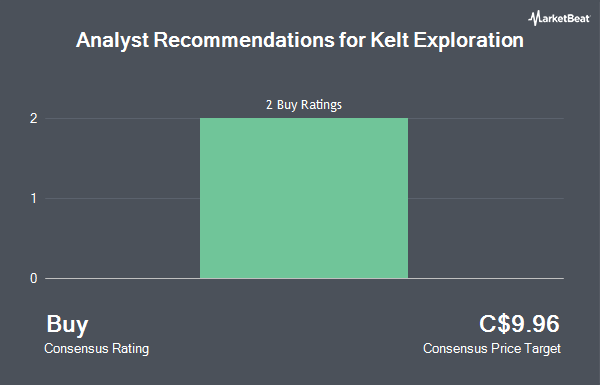 Receive News & Ratings for Kelt Exploration Ltd Daily - Enter your email address below to receive a concise daily summary of the latest news and analysts' ratings for Kelt Exploration Ltd and related companies with MarketBeat.com's FREE daily email newsletter.