Liberum Capital restated their buy rating on shares of Ted Baker plc (LON:TED) in a report issued on Tuesday morning. They currently have a GBX 3,100 ($40.76) price objective on the stock.
Several other research firms have also commented on TED. Royal Bank Of Canada reaffirmed an outperform rating and set a GBX 2,800 ($36.81) price target on shares of Ted Baker plc in a research report on Tuesday, June 27th. Jefferies Group LLC lifted their price target on Ted Baker plc from GBX 2,820 ($37.08) to GBX 2,900 ($38.13) and gave the stock a buy rating in a research report on Wednesday, June 14th. Finally, Peel Hunt cut their price target on Ted Baker plc from GBX 3,100 ($40.76) to GBX 2,750 ($36.16) and set a hold rating on the stock in a research report on Tuesday, June 13th. One analyst has rated the stock with a sell rating, one has assigned a hold rating and five have issued a buy rating to the stock. The stock currently has an average rating of Buy and an average target price of GBX 2,994.17 ($39.37).
Shares of Ted Baker plc (LON:TED) opened at 2760.00 on Tuesday. The stock's market cap is GBX 1.22 billion. The stock's 50 day moving average price is GBX 2,555.51 and its 200-day moving average price is GBX 2,544.84. Ted Baker plc has a 52 week low of GBX 2,286.00 and a 52 week high of GBX 3,150.00.
COPYRIGHT VIOLATION WARNING: "Liberum Capital Reaffirms "Buy" Rating for Ted Baker plc (TED)" was posted by Markets Daily and is the sole property of of Markets Daily. If you are accessing this article on another site, it was stolen and reposted in violation of US and international copyright and trademark legislation. The legal version of this article can be read at https://www.themarketsdaily.com/2017/10/13/liberum-capital-reaffirms-buy-rating-for-ted-baker-plc-ted.html.
In other Ted Baker plc news, insider Raymond Stuart Kelvin sold 62,527 shares of Ted Baker plc stock in a transaction that occurred on Wednesday, October 11th. The stock was sold at an average price of GBX 2,760 ($36.29), for a total transaction of £1,725,745.20 ($2,268,926.11).
About Ted Baker plc
Ted Baker Plc is a United Kingdom-based global lifestyle company. The Company offers a range of collections, including menswear, womenswear, global, phormal, endurance, accessories, audio, bedding, childrenswear, crockery, eyewear, footwear, fragrance and skinwear, gifting and stationery, jewelry, lingerie and sleepwear, luggage, neckwear, rugs, suiting, technical accessories, tiles and watches.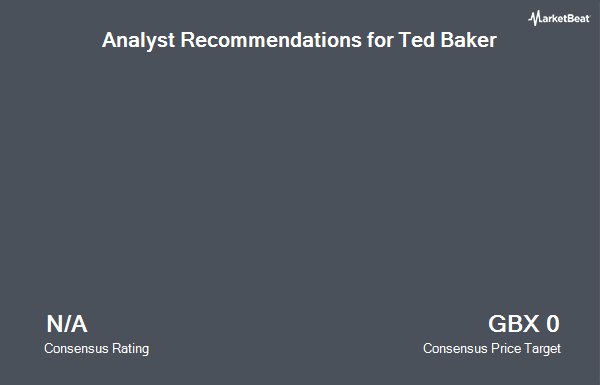 Receive News & Ratings for Ted Baker plc Daily - Enter your email address below to receive a concise daily summary of the latest news and analysts' ratings for Ted Baker plc and related companies with MarketBeat.com's FREE daily email newsletter.