EXFO Inc (NASDAQ:EXFO) (TSE:EXF) released its earnings results on Thursday. The communications equipment provider reported $0.02 earnings per share for the quarter, missing the Zacks' consensus estimate of $0.06 by ($0.04), Briefing.com reports. The firm had revenue of $63.00 million for the quarter, compared to analyst estimates of $60.63 million. EXFO had a return on equity of 3.25% and a net margin of 0.93%. EXFO's revenue for the quarter was up .2% on a year-over-year basis.
EXFO (NASDAQ:EXFO) traded up 0.62% on Thursday, hitting $4.05. 78,600 shares of the stock traded hands. The stock has a market cap of $221.55 million, a price-to-earnings ratio of 101.25 and a beta of 0.48. The firm's 50 day moving average is $4.06 and its 200 day moving average is $4.52. EXFO has a 52 week low of $3.70 and a 52 week high of $6.15.
A number of research firms have weighed in on EXFO. Zacks Investment Research lowered shares of EXFO from a "hold" rating to a "strong sell" rating in a research report on Monday, July 3rd. Northland Securities set a $6.00 price objective on shares of EXFO and gave the stock a "buy" rating in a report on Saturday, July 1st. BMO Capital Markets set a $6.00 price objective on shares of EXFO and gave the stock a "hold" rating in a report on Saturday, July 1st. Royal Bank Of Canada dropped their price objective on shares of EXFO from $5.50 to $5.25 and set a "sector perform" rating on the stock in a report on Friday, June 30th. Finally, TheStreet downgraded shares of EXFO from a "b" rating to a "c+" rating in a report on Friday, July 7th. Five investment analysts have rated the stock with a hold rating and one has given a buy rating to the company's stock. EXFO has an average rating of "Hold" and a consensus target price of $5.70.
COPYRIGHT VIOLATION WARNING: "EXFO Inc (EXFO) Announces Earnings Results" was originally published by Markets Daily and is the sole property of of Markets Daily. If you are accessing this news story on another domain, it was illegally stolen and reposted in violation of U.S. and international trademark and copyright law. The original version of this news story can be read at https://www.themarketsdaily.com/2017/10/12/exfo-inc-exfo-announces-earnings-results.html.
EXFO Company Profile
EXFO Inc is a Canada-based company, which provides communications service providers (CSPs) and data center, cloud and Web-scale operators with field test, service assurance and analytics solutions to ensure the deployment, maintenance and management of physical, virtual, fixed and mobile networks. It focuses on network infrastructures: fourth generation (4G)/long-term evolution (LTE), wireless backhaul, small cells and distributed antenna systems (DAS), 100G network upgrades and fiber-to-the-home (FTTH)/fiber-to-the-curb (FTTC)/fiber-to-the-node (FTTN) deployments.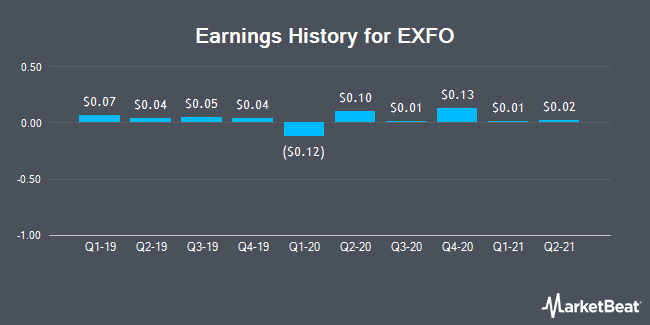 Receive News & Ratings for EXFO Inc Daily - Enter your email address below to receive a concise daily summary of the latest news and analysts' ratings for EXFO Inc and related companies with MarketBeat.com's FREE daily email newsletter.