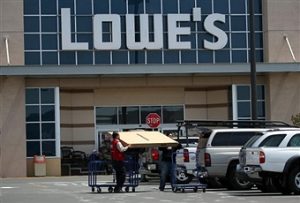 On Wednesday, Lowe's posted its sales and earnings for its second quarter that came up short of expectations on Wall Street.
The home improvement retailer lowered its full year outlook as well, as it anticipated investing more in its marketing and service for clients in stores, which will hurt its margins.
Shares fell by as much as 6% in trading before the opening bell Wednesday following the release of Lowe's earnings.
Earnings per share for Lowe's were $1.57 compared to a profit forecast of per share earnings of $1.61.
Revenue ended the quarter at just over $19.5 billion, while Wall Street was expecting $19.53 billion.
Sales at same-stores were up by 4.5%, which was just better than the estimated growth of 4.3%.
While the results we posted came up short of expectations during the first six months of the year, Lowe's remains focused on carrying out the necessary investments in order to drive sales and improve customer experience, said Robert Niblock the CEO.
He added that the company was pleased with its improved comparable sales for the just ended quarter, and the positive momentum built during the entire second quarter, that culminated in an increase of comparable sales of 7.9% for July.
Lowe's posted net income for its second quarter of just over $1.4 billion equal to $1.68 a share, compared to one year ago of $1.2 billion equal to $1.31 per share.
Excluding a gain of $96 million for the sale of the company's interest in is joint venture in Australia, the home improvement retailer had earning per share of $1.57.
Revenue at Lowe's was up 6.8% ending the quarter at just over $19.5 billion.
Sales at stores open for a minimum of 13 months were up 4.5% topping the expected 4.3% by Wall Street.
Looking forward, Lowe's lowered its full year outlook for earnings, and is now expecting earnings of $4.20 to $4.30 per share. Analysts were expecting the profit for the full year to be $4.62 a share.
Lowe's is still expecting its revenue to go up 5% by 2017 year end, with its sales at established stores increasing by 3.5%.
Earlier in August, Home Depot, the larger rival of Lowe's posted revenue, profit as well as comparable sales that beat Wall Street expectations. However shares were down that day on concerns the home improvement business was not Amazon proof like first thought.
Lowe's, for its fiscal first quarter, posted sales and earnings that came up short of Wall Street especially when taking into account the momentum of the housing sector to start 2017.