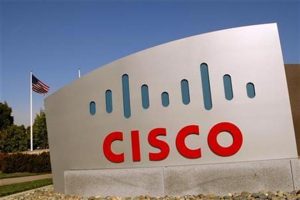 Cisco Systems quarterly revenue for its security business came up short of estimates by analysts, raising the concern about the largest networking gear maker in the world's efforts to transition into a company focused on software.
Shares of Cisco fell 2.5% in trading afterhours on Wednesday. With what is the traditional business of making routers and switches continuing to struggle, Cisco like many other legacy tech companies, has focused on areas of high-growth like security, cloud computing and Internet of Things.
Its security business, which offers breach detection and firewall protection systems, has been the fastest growing at Cisco until the two most recent quarters.
Growth in revenue at Cisco slowed to 3% during the most recently ending quarter, its fiscal fourth quarter, from 16% for the same quarter one year ago and 9% from the prior quarter.
Third quarter orders in the UK slowed because of strength in the dollar affected its business, said CFO Kelly Kramer.
CEO Chuck Robbins, the Cisco transition's architect, said he did not have any concerns about its security business, while Kramer forecasted an increase in revenue for the upcoming quarter.
One Wall Street analyst said the upcoming two quarters would give an indication of the health of Cisco's security business.
Cisco's routers and switches business, which are its two largest, have struggled because of sluggish demand by enterprise customers and telecom carriers.
Revenue for each of those two businesses was down 9% during the quarter and missed expectations of analysts on Wall Street.
While its revenue from the security business of $558 million came up short of estimates by analysts of just over $580.5 billion, the overall revenue at Cisco was helped by the data center and wireless business, which it's the company's fastest growing.
Overall revenue at Cisco was down for the seventh consecutive quarter, but the close to 4% drop to just over $12.13 billion ended up being in line with estimates on Wall Street of just over $12.1 billion.
Excluding one-off items, Cisco ended the quarter with earnings per share of 61 cents, which matched estimates of analysts.
Cisco is expecting revenue to drop by between 1% and 3% during the current fiscal first quarter, which was also in line with expectations on Wall Street, as was the forecast by Cisco of its adjusted earnings.
Up to the close of business in Wednesday, shares of Cisco had increased close to 7% in 2017.