Wayside Technology Group, Inc. (NASDAQ:WSTG) announced a quarterly dividend on Friday, July 28th, Wall Street Journal reports. Investors of record on Friday, August 11th will be given a dividend of 0.17 per share on Friday, August 18th. This represents a $0.68 dividend on an annualized basis and a yield of 4.00%. The ex-dividend date of this dividend is Wednesday, August 9th.
Wayside Technology Group (WSTG) traded down 1.47% during midday trading on Tuesday, reaching $16.75. The company had a trading volume of 204 shares. Wayside Technology Group has a 12-month low of $16.35 and a 12-month high of $21.75. The stock has a market capitalization of $71.76 million, a PE ratio of 12.38 and a beta of 0.29. The company has a 50-day moving average of $18.62 and a 200-day moving average of $18.84.
Wayside Technology Group (NASDAQ:WSTG) last announced its quarterly earnings data on Thursday, July 27th. The company reported $0.30 earnings per share (EPS) for the quarter. The business had revenue of $102.98 million during the quarter. Wayside Technology Group had a return on equity of 15.87% and a net margin of 1.36%. On average, analysts predict that Wayside Technology Group will post $1.25 EPS for the current fiscal year.
TRADEMARK VIOLATION WARNING: This story was originally reported by Markets Daily and is the property of of Markets Daily. If you are viewing this story on another domain, it was illegally copied and republished in violation of United States and international copyright & trademark law. The legal version of this story can be accessed at https://www.themarketsdaily.com/2017/08/08/wayside-technology-group-inc-wstg-announces-quarterly-dividend-of-0-17-updated.html.
About Wayside Technology Group
Wayside Technology Group, Inc is an information technology (IT) channel company. The Company distributes software and hardware developed by others through resellers indirectly to customers across the world. The Company operates through two segments: Lifeboat Distribution and TechXtend. The Lifeboat Distribution segment distributes technical software and hardware to corporate resellers, value added resellers (VARs), consultants and systems integrators across the world.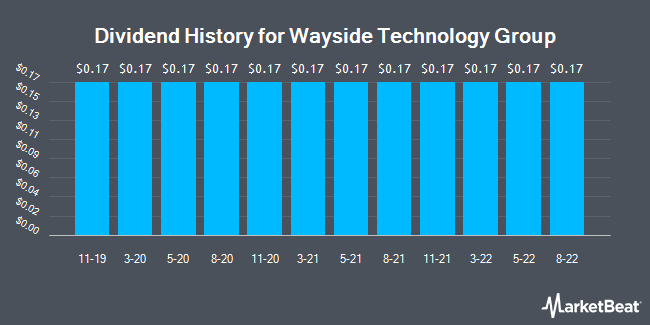 Receive News & Ratings for Wayside Technology Group Inc. Daily - Enter your email address below to receive a concise daily summary of the latest news and analysts' ratings for Wayside Technology Group Inc. and related companies with MarketBeat.com's FREE daily email newsletter.