Otter Tail Corporation (NASDAQ:OTTR) announced its quarterly earnings results on Monday. The utilities provider reported $0.42 EPS for the quarter, beating the Thomson Reuters' consensus estimate of $0.40 by $0.02, Bloomberg Earnings reports. The business had revenue of $212.10 million for the quarter, compared to analyst estimates of $211.30 million. Otter Tail Corporation had a return on equity of 10.15% and a net margin of 8.30%. Otter Tail Corporation's quarterly revenue was up 4.2% on a year-over-year basis. During the same quarter in the previous year, the firm earned $0.41 EPS.
Otter Tail Corporation (NASDAQ:OTTR) opened at 40.50 on Tuesday. Otter Tail Corporation has a 12 month low of $32.99 and a 12 month high of $42.55. The firm has a 50-day moving average price of $40.22 and a 200 day moving average price of $38.74. The company has a market cap of $1.60 billion, a P/E ratio of 23.56 and a beta of 0.78.
The firm also recently disclosed a quarterly dividend, which will be paid on Saturday, September 9th. Shareholders of record on Tuesday, August 15th will be given a $0.32 dividend. The ex-dividend date is Friday, August 11th. This represents a $1.28 annualized dividend and a yield of 3.16%. Otter Tail Corporation's payout ratio is 74.85%.
In related news, CFO Kevin G. Moug sold 800 shares of the stock in a transaction that occurred on Monday, May 15th. The stock was sold at an average price of $37.25, for a total transaction of $29,800.00. The sale was disclosed in a filing with the SEC, which is accessible through this link. Corporate insiders own 1.40% of the company's stock.
WARNING: "Otter Tail Corporation (NASDAQ:OTTR) Announces Quarterly Earnings Results, Beats Expectations By $0.02 EPS" was reported by Markets Daily and is the property of of Markets Daily. If you are accessing this piece on another site, it was stolen and republished in violation of United States and international copyright law. The legal version of this piece can be accessed at https://www.themarketsdaily.com/2017/08/08/otter-tail-corporation-nasdaqottr-announces-quarterly-earnings-results-beats-expectations-by-0-02-eps.html.
Several brokerages recently commented on OTTR. BidaskClub lowered Otter Tail Corporation from a "buy" rating to a "hold" rating in a research note on Thursday, June 22nd. Zacks Investment Research raised Otter Tail Corporation from a "sell" rating to a "hold" rating in a research note on Wednesday, July 5th.
About Otter Tail Corporation
Otter Tail Corporation is a holding company. The Company operates through three segments: Electric, Manufacturing and Plastics. The Electric segment includes the production, transmission, distribution and sale of electric energy in Minnesota, North Dakota and South Dakota by Otter Tail Power Company (OTP).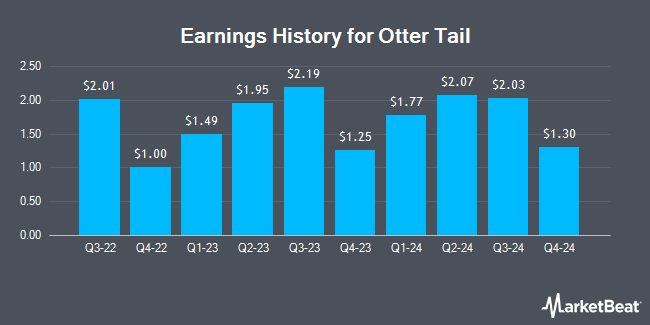 Receive News & Ratings for Otter Tail Corporation Daily - Enter your email address below to receive a concise daily summary of the latest news and analysts' ratings for Otter Tail Corporation and related companies with MarketBeat.com's FREE daily email newsletter.