Meggitt plc (LON:MGGT) has been assigned a consensus rating of "Hold" from the fifteen analysts that are presently covering the company, Marketbeat Ratings reports. Four equities research analysts have rated the stock with a sell recommendation, seven have issued a hold recommendation and four have given a buy recommendation to the company. The average 1 year price target among brokerages that have covered the stock in the last year is GBX 459.38 ($5.98).
A number of research analysts have recently commented on the company. Barclays PLC reaffirmed an "overweight" rating and set a GBX 540 ($7.03) target price on shares of Meggitt plc in a research note on Monday. Liberum Capital reissued a "sell" rating and issued a GBX 375 ($4.88) price objective on shares of Meggitt plc in a research note on Monday. J P Morgan Chase & Co reissued an "overweight" rating and issued a GBX 575 ($7.49) price objective on shares of Meggitt plc in a research note on Monday, July 24th. Deutsche Bank AG dropped their price objective on Meggitt plc from GBX 460 ($5.99) to GBX 450 ($5.86) and set a "hold" rating on the stock in a research note on Wednesday, August 2nd. Finally, Citigroup Inc. reissued a "neutral" rating and issued a GBX 500 ($6.51) price objective on shares of Meggitt plc in a research note on Friday, May 12th.
In other Meggitt plc news, insider Doug Webb sold 16,869 shares of the company's stock in a transaction on Monday, May 22nd. The stock was sold at an average price of GBX 482 ($6.28), for a total transaction of £81,308.58 ($105,884.33). In the last 90 days, insiders have acquired 76 shares of company stock valued at $37,157.
COPYRIGHT VIOLATION NOTICE: This piece was published by Markets Daily and is the sole property of of Markets Daily. If you are viewing this piece on another domain, it was illegally copied and reposted in violation of United States & international copyright law. The legal version of this piece can be accessed at https://www.themarketsdaily.com/2017/08/08/meggitt-plc-mggt-receives-average-recommendation-of-hold-from-analysts.html.
Meggitt plc (MGGT) traded up 1.39% during midday trading on Tuesday, reaching GBX 503.50. The company's stock had a trading volume of 1,800,300 shares. The company's 50-day moving average is GBX 494.39 and its 200 day moving average is GBX 466.62. The firm's market cap is GBX 3.90 billion. Meggitt plc has a 12-month low of GBX 407.40 and a 12-month high of GBX 510.50.
About Meggitt plc
Meggitt PLC is an engineering company. The Company designs and manufactures high performance components and sub-systems for aerospace, defense and other specialist markets, including energy, medical, industrial, test and automotive. The Company's segments are Meggitt Aircraft Braking Systems (MABS), Meggitt Control Systems (MCS), Meggitt Polymers & Composites (MPC), Meggitt Sensing Systems (MSS) and the Meggitt Equipment Group (MEG).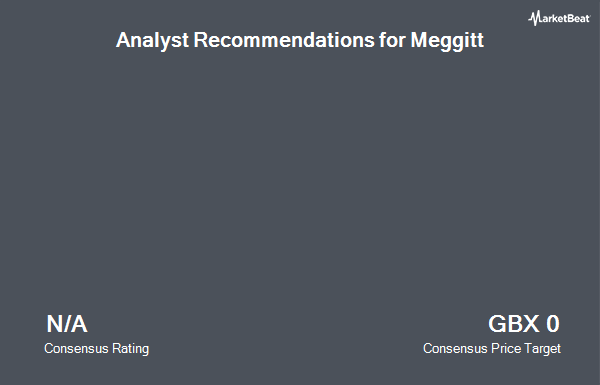 Receive News & Ratings for Meggitt plc Daily - Enter your email address below to receive a concise daily summary of the latest news and analysts' ratings for Meggitt plc and related companies with MarketBeat.com's FREE daily email newsletter.