Aritzia Inc (TSE:ATZ)'s stock had its "outperform" rating reiterated by stock analysts at BMO Capital Markets in a research report issued to clients and investors on Tuesday, July 11th. They currently have a C$23.00 target price on the stock. BMO Capital Markets' price objective indicates a potential upside of 81.39% from the company's current price.
Several other equities research analysts also recently issued reports on the company. Royal Bank Of Canada decreased their price target on Aritzia from C$23.00 to C$21.00 and set an "outperform" rating for the company in a report on Wednesday, June 28th. William Blair restated an "outperform" rating on shares of Aritzia in a research note on Wednesday, May 10th. CIBC reduced their price objective on Aritzia from C$26.00 to C$22.00 in a research note on Thursday, May 11th. TD Securities restated a "buy" rating and issued a C$23.00 price objective on shares of Aritzia in a research note on Thursday, May 4th. Finally, Scotiabank restated an "outperform" rating and issued a C$23.00 price objective on shares of Aritzia in a research note on Friday, April 28th. Eight equities research analysts have rated the stock with a buy rating, Aritzia presently has an average rating of "Buy" and a consensus target price of C$22.43.
Aritzia (TSE ATZ) traded up 1.34% during mid-day trading on Tuesday, hitting $12.85. 124,114 shares of the company were exchanged. Aritzia has a 12-month low of $12.50 and a 12-month high of $19.40. The stock's market cap is $1.41 billion. The company has a 50 day moving average of $14.41 and a 200 day moving average of $15.20.
COPYRIGHT VIOLATION WARNING: "Aritzia's (ATZ) Outperform Rating Reiterated at BMO Capital Markets" was reported by Markets Daily and is the property of of Markets Daily. If you are viewing this report on another site, it was illegally stolen and republished in violation of US and international copyright & trademark laws. The legal version of this report can be viewed at https://www.themarketsdaily.com/2017/08/08/aritzias-atz-outperform-rating-reiterated-at-bmo-capital-markets-updated-updated-updated.html.
In related news, insider David John Maciver sold 8,244 shares of the stock in a transaction dated Monday, July 10th. The stock was sold at an average price of C$14.64, for a total transaction of C$120,692.16.
About Aritzia
Aritzia Inc operates as a design house and fashion retailer of women's apparel and accessories. It designs and sells blouses, T-shirts, pants, dresses, sweaters, jackets and coats, skirts, shorts, denim, outerwear, leggings, sweatshirts, bodysuits, rompers and jumpsuits, intimates, and active wear; and accessories, including hats, scarves, bags and pouches, socks and tights, belts, IPhone cases, and gloves.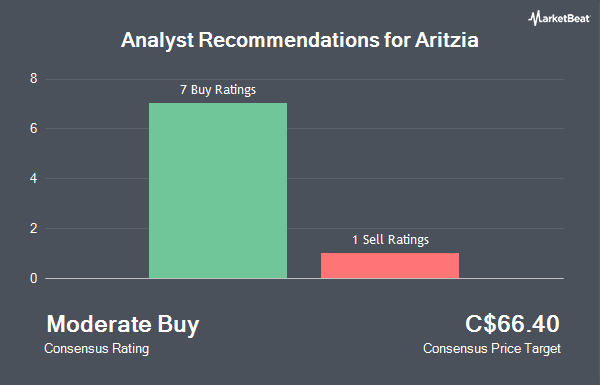 Receive News & Ratings for Aritzia Inc Daily - Enter your email address below to receive a concise daily summary of the latest news and analysts' ratings for Aritzia Inc and related companies with MarketBeat.com's FREE daily email newsletter.