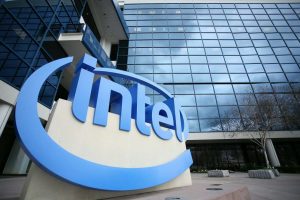 Intel Corp. posted an increase in its quarterly profit while raising its forecast for earnings that showed it has for now been successful in fighting off attacks from its rivals across its core businesses.
Revenue increased by 9% from the same period one year ago for the quarter ending July 1 to just over $14.8 billion. Revenue was drive in part by the strength shown in its divisions that sell chips for industrial strength servers and personal computers.
Shares of Intel were up close to 1% in trading afterhours on Thursday, after surging initially even higher, as the chip maker increased its forecast for revenue as well as earnings per share for the full year.
Intel had 93% of the close to $31 billion worldwide market for PCs calculating chips and approached a share of nearly 100% of the global $16.5 billion market for server processors in 2016, showed data from an online research firm.
Intel has spent heavily trying to spur growth in other areas, and some of that investment is starting to pay off now.
Intel CEO Brian Krzanich during a conference call said the company was executing very well its strategy to transform from a company that is PC-centric to one that is data-centric that powers the cloud as well as billions of smart and connected devices.
Total profit for the most recent three month period was higher by over 110% from the same three months in 2016, when Intel posted a big restructuring charge.
Excluding its restructuring charge, profit was up 23%. Intel is expecting adjust earnings for the fully year to be $3.00 per share with revenue of $61.3 billion. Previously it expected revenue of $60 billion and earnings per share of $2.85.
The server chips from Intel face increased competition from the graphic processors of Nvidia Corp which have proven to be quite efficient in certain artificial tasks.
Intel said it would launch its own Nervana chips that are AI-focused later in 2017.
In June, Advance Micro Devices or AMD launched an assault on server chips at Intel. Its line of Epyc chips is aimed at Intel's lower half of the data-center offerings, which represented 80% of its sales for server chips in 2016.
Epyc reached the market late for it to be reflected in the results of either Intel or AMD for the second quarter.
Intel in July hit back with its upgraded line of chips for servers known as Xeon Scalable Platform to one up the performance of AMD.