Capstone Mining Corp (TSE:CS)'s stock had its "outperform" rating reissued by stock analysts at Scotiabank in a report released on Thursday. They presently have a C$1.50 target price on the mining company's stock. Scotiabank's price target suggests a potential upside of 42.86% from the stock's current price.
Other equities research analysts have also recently issued reports about the company. TD Securities upgraded Capstone Mining Corp from a "hold" rating to a "buy" rating and set a C$1.90 target price for the company in a report on Wednesday, April 12th. CSFB initiated coverage on Capstone Mining Corp in a research report on Thursday, April 13th. They issued a "neutral" rating for the company. Finally, BMO Capital Markets reissued an "outperform" rating and issued a C$2.00 price target on shares of Capstone Mining Corp in a research report on Thursday. Two investment analysts have rated the stock with a hold rating and six have issued a buy rating to the stock. The stock presently has a consensus rating of "Buy" and a consensus price target of C$1.56.
Capstone Mining Corp (CS) opened at 1.05 on Thursday. Capstone Mining Corp has a one year low of $0.65 and a one year high of $1.81. The company's 50 day moving average price is $0.89 and its 200-day moving average price is $1.22. The company's market cap is $410.88 million.
ILLEGAL ACTIVITY WARNING: This report was first reported by Markets Daily and is the sole property of of Markets Daily. If you are accessing this report on another site, it was stolen and reposted in violation of international copyright & trademark law. The original version of this report can be read at https://www.themarketsdaily.com/2017/07/17/capstone-mining-corp-cs-rating-reiterated-by-scotiabank.html.
In other Capstone Mining Corp news, insider George Leslie Brack bought 100,000 shares of Capstone Mining Corp stock in a transaction that occurred on Tuesday, June 20th. The shares were bought at an average cost of C$0.80 per share, with a total value of C$80,000.00. Also, Director Darren Murvin Pylot bought 43,500 shares of Capstone Mining Corp stock in a transaction that occurred on Friday, April 28th. The shares were acquired at an average cost of C$0.96 per share, for a total transaction of C$41,760.00. Insiders have purchased a total of 4,286,500 shares of company stock worth $3,787,835 over the last ninety days.
About Capstone Mining Corp
Capstone Mining Corp. is a Canada-based mining company. The Company is engaged in the production of and exploration for base metals in the United States, Mexico, Canada and Chile, with a focus on copper. The Company's segments include individual mining operations of Pinto Valley (the United States), Cozamin (Mexico), Minto (Canada), Santo Domingo development project (Chile) and other.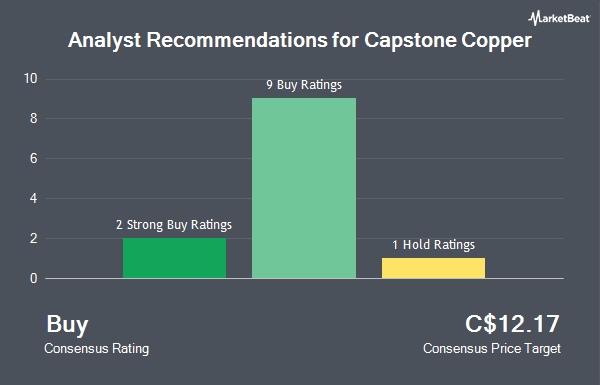 Receive News & Ratings for Capstone Mining Corp Daily - Enter your email address below to receive a concise daily summary of the latest news and analysts' ratings for Capstone Mining Corp and related companies with MarketBeat.com's FREE daily email newsletter.