Flowers Foods, Inc. (NYSE:FLO) issued an update on its FY17 earnings guidance on Wednesday morning. The company provided earnings per share (EPS) guidance of $0.85-0.95 for the period, compared to the Thomson Reuters consensus estimate of $0.89. The company issued revenue guidance of $3.927-4.006 billion, compared to the consensus revenue estimate of $3.94 billion.
Flowers Foods, Inc. (FLO) traded down 3.55% during trading on Friday, hitting $17.67. 3,998,368 shares of the stock were exchanged. Flowers Foods, Inc. has a 52 week low of $14.35 and a 52 week high of $21.00. The firm has a market cap of $3.70 billion, a PE ratio of 22.40 and a beta of 0.97. The firm's 50-day moving average is $18.75 and its 200 day moving average is $19.17.
Flowers Foods (NYSE:FLO) last released its earnings results on Wednesday, May 17th. The company reported $0.25 earnings per share for the quarter, meeting the Zacks' consensus estimate of $0.25. The firm had revenue of $1.19 billion for the quarter, compared to analysts' expectations of $1.21 billion. Flowers Foods had a net margin of 4.22% and a return on equity of 15.39%. The company's quarterly revenue was down 1.4% on a year-over-year basis. During the same period in the previous year, the company earned $0.28 earnings per share. Analysts expect that Flowers Foods, Inc. will post $0.87 earnings per share for the current fiscal year.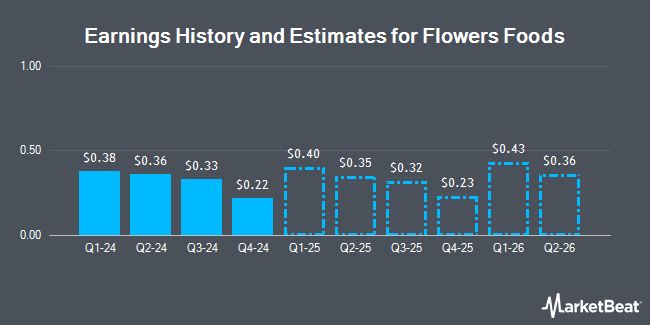 The business also recently announced a quarterly dividend, which will be paid on Friday, June 23rd. Shareholders of record on Friday, June 9th will be paid a $0.17 dividend. This represents a $0.68 dividend on an annualized basis and a yield of 3.85%. This is a boost from Flowers Foods's previous quarterly dividend of $0.16. The ex-dividend date of this dividend is Wednesday, June 7th. Flowers Foods's payout ratio is presently 87.18%.
A number of research firms have weighed in on FLO. Zacks Investment Research upgraded shares of Flowers Foods from a sell rating to a hold rating in a research note on Tuesday, May 9th. Jefferies Group LLC reiterated a buy rating and issued a $23.00 target price on shares of Flowers Foods in a research note on Friday, May 26th. Finally, TheStreet upgraded shares of Flowers Foods from a c+ rating to a b- rating in a research note on Thursday, May 18th. One equities research analyst has rated the stock with a sell rating, four have issued a hold rating and four have issued a buy rating to the company's stock. The stock currently has an average rating of Hold and an average target price of $20.14.
TRADEMARK VIOLATION NOTICE: This piece of content was first reported by Markets Daily and is the sole property of of Markets Daily. If you are viewing this piece of content on another domain, it was illegally stolen and reposted in violation of United States and international copyright & trademark laws. The legal version of this piece of content can be read at https://www.themarketsdaily.com/2017/06/16/flowers-foods-inc-flo-releases-fy17-earnings-guidance-updated-updated-updated.html.
Flowers Foods Company Profile
Flowers Foods, Inc is a producer and marketer of packaged bakery products. The Company operates in two segments: direct-store-delivery segment (DSD Segment) and warehouse delivery segment (Warehouse Segment). The DSD segment produces fresh breads, buns, rolls, tortillas and snack cakes sold primarily by a network of independent distributors to retail and foodservice customers in the areas of the United States: East, South, Southwest, California, and select markets in the Midwest, Pacific Northwest, Nevada, and Colorado.
Receive News & Ratings for Flowers Foods Inc. Daily - Enter your email address below to receive a concise daily summary of the latest news and analysts' ratings for Flowers Foods Inc. and related companies with MarketBeat.com's FREE daily email newsletter.