DASAN Zhone Solutions, Inc. (NASDAQ:DZSI) released its earnings results on Tuesday, May 16th. The communications equipment provider reported ($0.22) earnings per share for the quarter, topping analysts' consensus estimates of ($0.25) by $0.03, Morningstar.com reports. DASAN Zhone Solutions had a negative return on equity of 26.94% and a negative net margin of 9.30%. The business had revenue of $53.07 million for the quarter, compared to the consensus estimate of $50.08 million.
DASAN Zhone Solutions (NASDAQ:DZSI) traded down 1.66% during midday trading on Friday, reaching $5.93. The company's stock had a trading volume of 3,524 shares. DASAN Zhone Solutions has a 52 week low of $4.25 and a 52 week high of $10.00. The firm's market cap is $97.12 million. The firm has a 50 day moving average price of $5.85 and a 200-day moving average price of $3.71.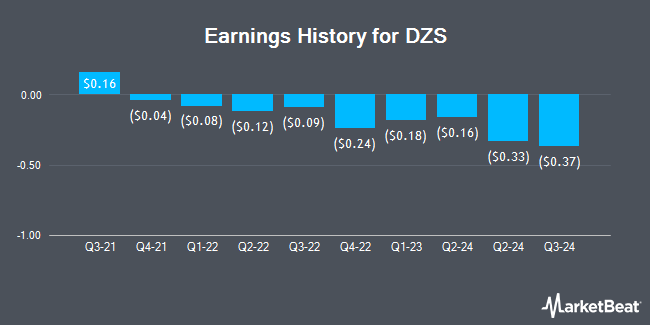 Separately, Zacks Investment Research raised DASAN Zhone Solutions from a "hold" rating to a "buy" rating and set a $6.75 target price on the stock in a research report on Wednesday, May 24th.
TRADEMARK VIOLATION NOTICE: "DASAN Zhone Solutions, Inc. (DZSI) Posts Quarterly Earnings Results, Beats Estimates By $0.03 EPS" was originally reported by Markets Daily and is the sole property of of Markets Daily. If you are reading this article on another site, it was illegally copied and republished in violation of US and international copyright and trademark law. The correct version of this article can be viewed at https://www.themarketsdaily.com/2017/06/16/dasan-zhone-solutions-inc-dzsi-issues-quarterly-earnings-results-beats-estimates-by-0-03-eps-updated-updated-updated.html.
DASAN Zhone Solutions Company Profile
DASAN Zhone Solutions, Inc, formerly Zhone Technologies, Inc, designs, develops and manufactures communications network equipment for telecommunications operators and enterprises across the world. The Company's products provide enterprise solutions that enable both network service providers and enterprises to deliver high speed fiber access, while transporting voice, video and data to the end user.
Receive News & Ratings for DASAN Zhone Solutions Inc. Daily - Enter your email address below to receive a concise daily summary of the latest news and analysts' ratings for DASAN Zhone Solutions Inc. and related companies with MarketBeat.com's FREE daily email newsletter.